THREAD LIFTING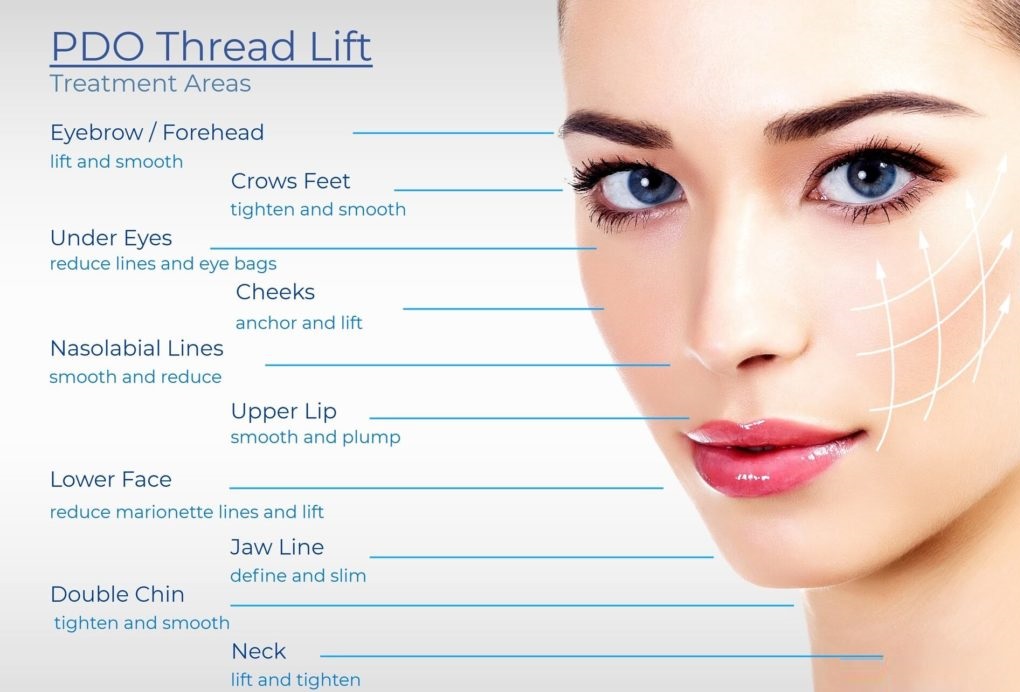 What is thread lifting?
Thread lifting is a minimally invasive cosmetic procedure we perform in our comfortable and private Las Vegas offices. Dr. Thaker inserts PDO threads through a needle placed under the skin to lift and tighten sagging or loose skin. We can treat areas of the face, forehead, eyebrows, neck, breast, or other parts of the body.
Contact us here for an appointment.
What is pdo thread lift?
PDO stands for polydioxanone. PDO is simply the material of the actual thread. This is surgical suture that Dr. Thaker and other surgeons have used for decades. For thread lift, the PDO thread has tiny barbs that lift sagging skin of the face, neck or body. There are a few other materials beside PDO but they work similarly. PDO thread dissolves over time. Collagen replaces it to maintain your PDO thread lift results for many months or longer.
How long does PDO thread lift last?
PDO thread lift is a cosmetic procedure for the face, neck, breast, or buttocks. PDO thread lift uses dissolvable threads to lift and tighten sagging skin. The duration of results of a thread lift can vary depending on type of threads used, technique used, and the skin type and quality or condition. Results typically last many months or even over a year. In general, PDO thread lift lasts from 6 months to 2 years with proper skin care. The dissolvable threads used will gradually be absorbed by the body over time, which can stimulate collagen in these areas to 'take over' for the threads. Like even a surgical face lift, gravity can cause the skin to gradually return to its previous position.
What is a non surgical face lift?
This is the nick name for thread lifting. If patients do not have very pronounced excess skin, wrinkles or fat, PDO thread lift can produce results almost like a face lift at a fraction of the cost.
How does PDO thread lift work?
Dr. Thaker inserts threads made of biodegradable suture material, polydioxanone (PDO). The barbed threads are then gently pulled to lift the skin and create a more youthful, rejuvenated appearance. The other effect is that the threads also stimulate collagen production in the skin. So even when the threads dissolve, the collagen still remains to tighten and firm up skin over time.
Who performs thread lifting?
Dr. Thaker performs PDO thread lift at Phaze himself. He does not allow nurses or assistants to perform this delicate procedure. Dr Thaker has taught hundreds of other M.D.s how to thread lift as a continuing education course director. Dr. Thaker is a PDO thread lift expert and has lectured on thread lifting to packed auditoriums in Las Vegas and Los Angeles on various occasions. You are in good hands!
What areas can PDO thread lifting treat?
Thread lifting is often used to treat sagging skin on the cheeks, jowls, and neck, as well as to lift and shape the eyebrows for the 'cat's eye lift', a Dr. Thaker specialty. The procedure is performed under local anesthesia, is very well tolerated, and takes under an hour. Recovery time is minimal with PDO threads, with most patients able to return to normal activities within a few days.
Who is a good candidate for thread lifting?
Thread lifting is typically performed on patients who have mild to moderate sagging in the face and neck, who want a more youthful and refreshed appearance without surgery. PDO thread lift is generally well-tolerated and requires minimal downtime, although some patients may experience mild bruising or swelling. Thread lifting works best on healthy skin, without excess fat. It's important to note that thread lifting is not suitable for everyone, and potential risks and complications include infection, bruising, and thread breakage. Schedule a consultation with us to determine if thread lifting is suitable for you.
Contact us here for an appointment.
What are results for thread lifting?
Most patients who are good candidates have healthy skin. These patients are very pleased with PDO thread lift. They may return to treat any other areas at any time, or revisit the same areas in about a year to maintain great results. It is important to note that thread lifting is not permanent, just as even a surgical face lift is not a permanent solution. Skin continues to sag and stretch after face lift surgery ($20,000-$100,000) and that surgery can cost fifty times as much as PDO thread lift ($1000-$5000). Thus most patients are very pleased with thread lifting results for lasting effects and lower cost.
Contact us here for an appointment.