HAIR TRANSPLANTATION FOR WOMEN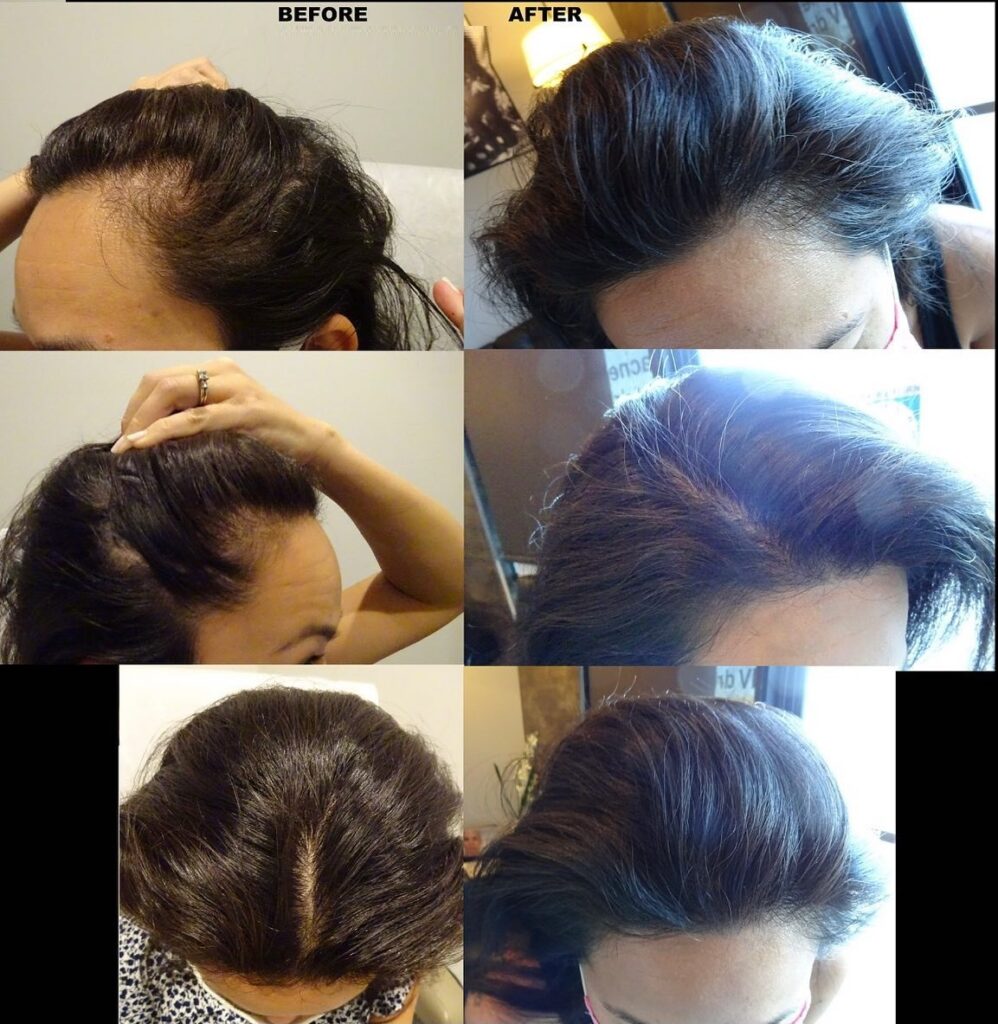 Hair transplantation involves transferring hair follicles from one area such as the scalp, to an area where hair growth is desired, such as the hair line. While hair transplantation is more commonly associated with men, it can also be performed on women who are experiencing hair loss. Women can suffer hair loss due to conditions such as androgenetic alopecia, hormonal imbalances, hair style related hair loss, or other factors affecting the scalp. Contact us here to schedule a hair loss consultation with Dr. Thaker.
How is hair transplantation different for women?
In general, the procedure for women is similar to that for men. However, there are some important differences when performing hair transplant for women. Women have more natural density, so we must place grafts more closely together to achieve a natural-looking result in some cases. They also have lower and straighter hair lines. These factors can mean more grafts are required. See our excellent results from hair transplantation for women here in our gallery.
Is obtaining donor hair to transplant different for women?
Women also tend to have more diffuse hair loss, spread out over a wider area. This hair loss affects even the donor site for our grafts. Women rarely shave their head for hair transplant, while men often do so to facilitate hair surgery. Last, women tend to wear their hair longer. This means we can sometimes shave small donor sections at the back, that the patient can hide under longer hair until these areas grow out. For very small cases, we also perform a new 'no shave' or 'long hair' procedure, where the donar area is not shaven at all. Last, some regenerative medicine techniques such as PRP or plasma injections, tend to work even better on women combined with hair transplantation.
Are results of hair transplantation different for women?
Women and men both can receive excellent results from hair transplantation by our experienced team and Dr. Thaker. The transplanted hair begins growing a few months after surgery restoring the balding area. For shaved areas in back, these are not noticable within a few days to weeks as hair grows back.
See some of our hair surgery results here.
Are there risk for hair transplantation for women?
Hair transplantation is regarded as one of the world's safest cosmetic surgeries. It's important to note that hair transplant like any surgical procedure, has potential risks and complications. Also note, large areas of hair loss, more desired fullness, and ongoing hair loss, all can require a further procedure. Thus it is important to have realistic expectations from a hair surgery and carefully follow pre and post procedure treatment plans. Women considering hair restoration should discuss the procedure with Dr. Thaker, our hair surgeon. Dr. Thaker can evaluate their individual case and provide recommendations on the most appropriate treatment. Contact us here to schedule a hair loss consultation with Dr. Thaker.