THERMIVA FEMALE REJUVENATION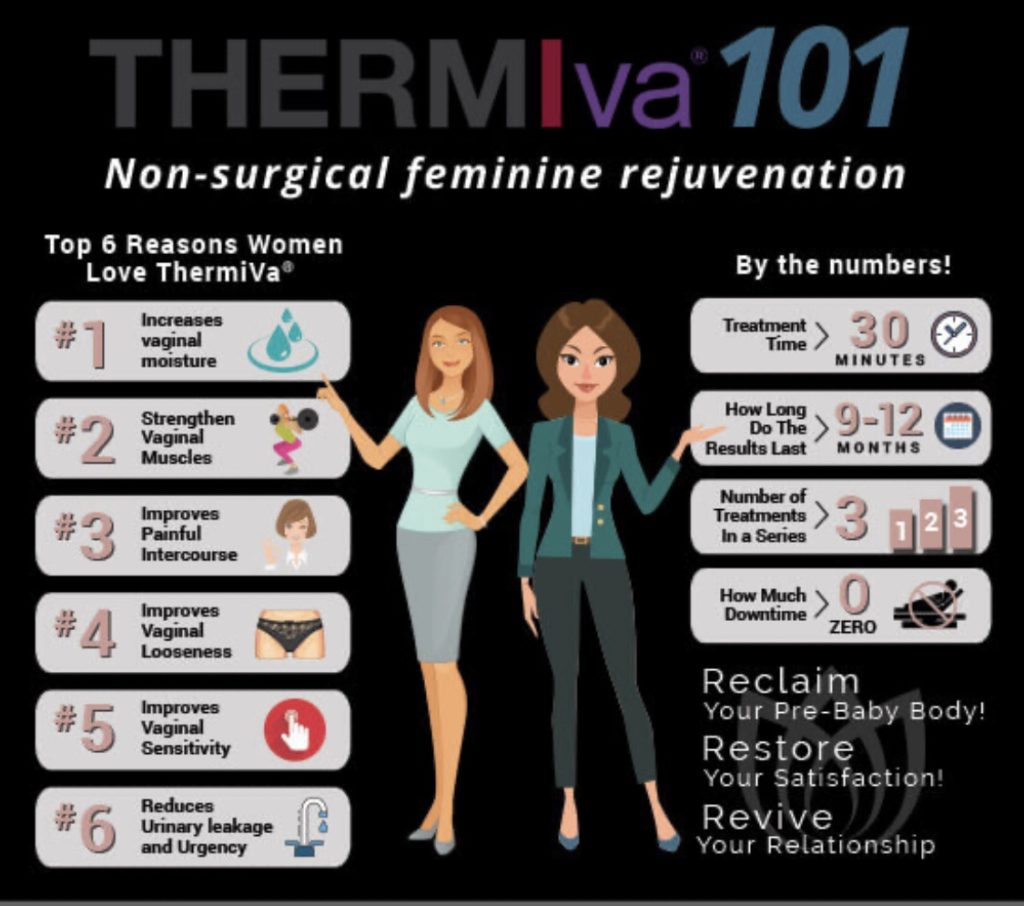 What is Thermiva Female Rejuvenation?
Female rejuvenation is also sometimes called vaginal rejuvenation or vaginal tightening. Thermiva femae rejuvenation is performed in our comfortable and private Las Vegas offices. We treat both inside and outside 'vulva' areas for tightening and skin rejuvenation. Well many clients use words like "tighter", "smoother", "younger" and "better than ever"! As we age, skin and soft tissues lose elasticity due to changes in collagen.  Thermiva remodels collagen in and around private female areas using safe radiofrequency.  When it is used in and around the vagina, it is called 'female rejuvenation'. We are a premiere Las Vegas Thermiva provider, see our Thermi profile here.
How does Thermiva work?
ThermiVa is radiofrequency female rejuvenation that can turn back the hands of time for a woman's most private area, in a 30 minute visit that is non surgical and virtually pain free.  Radiofrequency can tighten lax vaginal structures by remodeling collagen without damage to these sensitive areas.
What can Thermiva do for me?
The results of ThermiVa treatment can vary depending on the individual patient's condition and goals. Many patients report improvement in various aspects of vaginal health, including:
Vaginal Tightening: ThermiVa can help tighten and tone the vagina which can improve sensation and sexual satisfaction.
Increased Lubrication: The treatment can help increase natural lubrication, which can improve intercourse.
Reduction in Urinary Incontinence: Many patients report a reduction in urinary leakage after ThermiVa treatment. The best results are in mild to medium cases or for stress incontinence such leaking with coughing or laughing.
Improved Vaginal Appearance: ThermiVa can also help improve the appearance of the outer vaginal area or 'vulva', including reducing the size of the labia or 'lips'.
Enhanced Confidence: Many patients report feeling more confident and satisfied with their vaginal health overall after ThermiVa treatments.
Results of ThermiVa may require ongoing maintenance treatments such as repeating in several months to a year for some patients. Patient satisfaction is high with these treatments. As with any treatment, individual results vary and are not guaranteed.
What are the expected Thermiva results?
ThermiVa uses radiofrequency energy to stimulate collagen production and improve the tone and elasticity of the vagina (inner area) and vulva (outer areas). ThermiVa can also treat mild to moderate stress urinary incontinence. Thermi can improve sexual satisfaction by increasing sensitivity and lubrication. The procedure is performed in our doctor's office and typically takes about 30 minutes for your visit. It is considered safe and has little to no downtime, allowing patients to resume most normal activities immediately after treatment.
Now $150 off one session, $450 off three sessions!  Regular price $1199 each, or ask for our package specials while supplies last. Call 702.545.0660 or book your session here.
Am I a Candidate for Thermiva?
Thermiva is performed only by our M.D. at Phaze for  safety as well as  effectiveness. Thermiva is for healthy, non-pregnant women with recent normal/negative routine GYN care. Many women who are otherwise healthy seek Thermiva after child birth, simply due to changes of aging, for vaginal tightening, or to improve the quality of their intimate life.
How often can I get Thermiva Female Rejuvenation?
We offer Thermiva usually as 3 sessions done a month apart.  We can repeat these in several months for ongoing sessions.  Contact us here for an appointment.
Is Thermiva better than laser?
Dr Thaker has used both lasers and Thermiva radiofrequency and considers Thermiva superior due to both better results and better safety. Note that Thermiva can treat both the inside and the outside of female intimate areas, whereas lasers are mostly reserved for inner vagina treatments. Thus only Thermiva can improve the appearance of the 'lips' or labia of the vagina, skin tone, improve skin discoloration, and many other aspects of appearance that some patients report with treatments. Lasers also burn skin more easily and are generally less safe than Thermiva.
Can Thermiva improve the appearance of my vagina?
Yes, for most patients the outer intimate areas are treated as well as the vagina itself. Improved size and shape of the lips and related areas, tightened and improved color "pinkness" of the skin, all are widely reported by many of our patients and in published studies.
Can Thermiva help stress incontinence?
Stress incontinence is a common condition in which urine leaks during activities that increase pressure on the bladder. Common ones are coughing, sneezing, laughing, or exercising. There are several causes of stress incontinence, including pregnancy and childbirth. It occurs when pelvic floor muscles that support the bladder and urethra are weak or damaged, allowing urine to leak out. Thermiva is widely reported to help with stress incontinence in many published studies and our own experience. Thermiva is best for milder cases amenable to non surgical solutions. It also works best combined with lifestyle changes, pelvic floor 'Kegel' exercises, healthy weight and proper diet.
What else can I do for these problems?
We inject platelet rich plasma with Thermiva and some call this the Thermi- O shot. O shot stands for Opis, the greek goddess of sexuality, or some intend O for orgasm as sexual response may increase after these treatments. Dr Thaker has taught hundreds of doctors his PRP and injection techniques as a continuing medical education director. Dr Thaker offers also certain surgical procedures in female intimate areas. Thermiva and other procedures are for healthy non pregnant women with normal gynecologic care by their primary physicians. Read about the o shot and p shot here in our Las Vegas offices.
Now $150 off one session, $450 off three sessions!  Call 702.545.0660 or book your session here.