CHEMICAL PEEL BIOREPEEL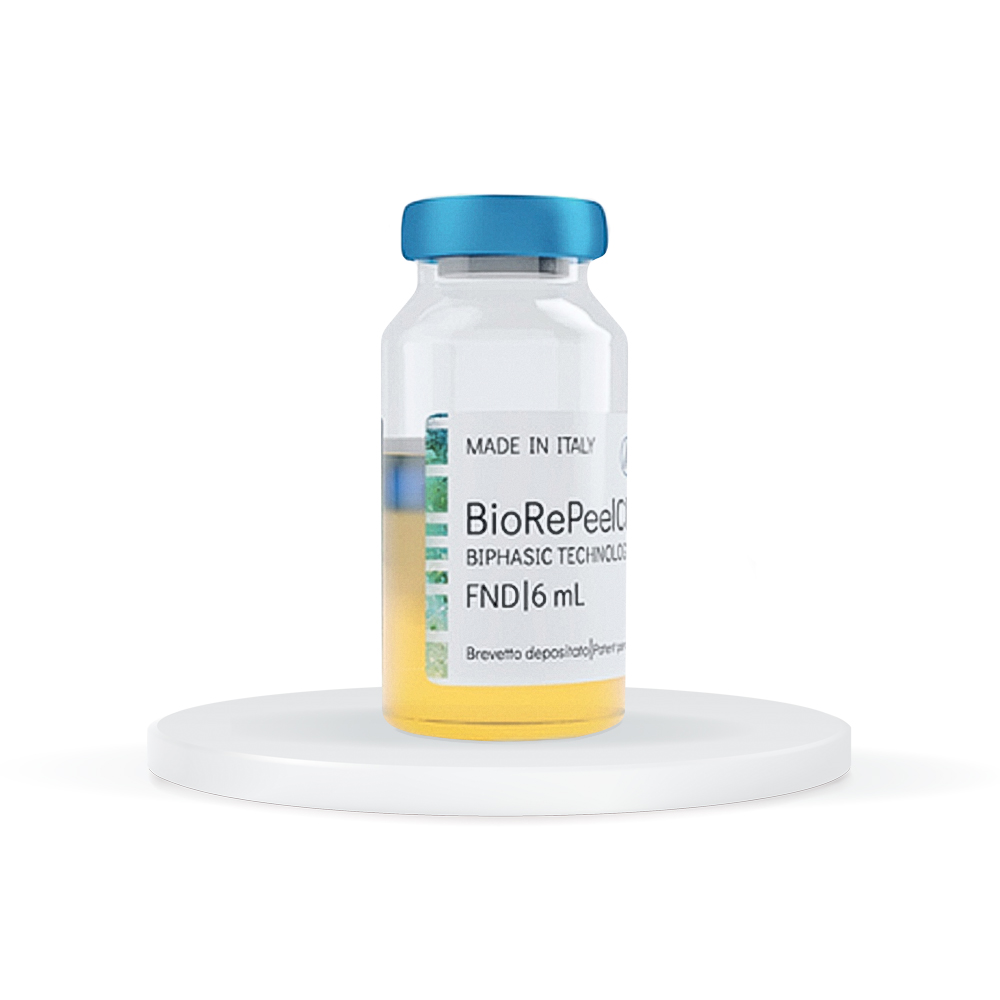 Dr Thaker and Phaze Laser Med Spa have partnered with the best cosmeceutical lines in the world. We tailor a plan just for you, incorporating home skin care and other procedures with your chemical peels in our expert hands.
What are your most popular chemical peels?
BioRePeel from Italy: this is our most popular chemical peel.
The vital component is 3-chloroacetic acid, which stimulates tissue renewal. Salicylic, tartaric, citric, lactobionic acids, all provide a smoothing and regenerating effect. BioRePeel is so popular since it delivers great results, but can be used even as a first peel on sensitive skin. BioRePeel offers an amino acid complex, vitamins B2 and C. The peel has both a superficial effect, cleansing and exfoliating skin, and a deeper launch of repair processes in the skin. As a result, a healthier and more radiant complexion. This peel is safe enough for all skin types. Contact us here for an appointment.
ZO Stimulator Peel: the perfect "lunchtime" peel with no downtime.
Our most gentle peel contains 3 different AHA or Alpha Hydroxy acids to exfoliate and promote skin cell turnover: 10% Salicylic Acid, 10% Lactic Acid and 10% Citric Acid. These are mild for a great exfoliation to upper layers of the skin. This is a similar combination of AHAs to the formulations by our own M. D. Dr Thaker, when he tailors chemical peels for our most sensitive skin types. See below.
ZO Invisipeel Resurfacing Facial: a no downtime, no peel, facial for all skin types.
ZO Invisipeel gently exfoliates and revives dull skin, replenishes moisture and minimizes discoloration. Thus, this treatment promotes more even skin tone and complexion.
Individualized chemical peel by M. D.: As well, Dr Thaker can tailor chemical peels just for you.
This occurs after an M. D. consultation for a series of peels in office. This is sometimes reserved for problem skin or our most sensitive skin types. He has taught numerous physicians the art of the chemical peel as a facial aesthetics course director, as well guides if necessary our own excellent esthetician team at Phaze.

What are the essential or best products I need to buy?
Phaze staff tailor a skin care program just for you using our highly select brands such as ZO Skin Health and others. We advise our clients that it is most important to use an SPF 30+ sun screen, and a hydrating agent or moisturizer. We select these just for you. The other aspects depend on your skin condition. We advise a skin care program that can include creams, lotions or serums for pigmentation issues, dry skin, acne, redness, and even specific problems such as rosacea or melasma.
What else can I do for healthy skin?
You should stay hydrated, eat healthy, and maintain your health through frequent routine visits to your own physicians. Cosmetics at retail stores generally may not be equivalent to high grade skin care offered through our M. D. offices. Also, at our office, we tailor a skin program just for you!

Who is a good chemical peel candidate?
Chemical peels can be used by anyone if matched properly, such as by the experts at Phaze. Even sensitive skin types, can benefit from chemical peels with proper pre and post procedure skin care. Contact us here for an appointment.
What is the best peel for sensitive skin?
The most gentle chemical peels are typically alpha-hydroxy acids (AHAs) peels such as glycolic acid and lactic acid. These peels are relatively mild and treat fine lines, acne scars, wrinkles, and uneven skin tone. BioRePeel combines gentle acid peels and therefore is our most popular peel.
Glycolic acid peels are a popular choice also as they are derived from sugar cane and are naturally occurring. They have small molecular sizes, allowing penetration to stimulate collagen production. Lactic acid peels are also gentle with sensitive skin as they are less likely to cause irritation.
When is the best time for a chemical peel?
Spring and fall are most popular times for chemical peels because the sun is not as strong. Summer and winter are fine for peels if proper sun screen is used in summer, and proper moisturizers are used in winter. We perform chemical peels all year round.
How much does a chemical peel cost?
Chemical peels are best as a series of 3 to 5 peels. This is because skin takes a few weeks to remodel and then the next peel can add to the results. Chemical peels cost a few hundred dollars to over a thousand dollars, for a package of 3 to 5 peels.
Do you offer medical services for skin care?
We tailor a plan just for you at Phaze! Our staff can combined this with an M.D. visit if you request a medical evaluation here, by appointment only. This occurs apart from our esthetician services, as our estheticians do not offer medical advice. Dr Thaker has extensive experience with skin health, ranging from thousands of wound healing surgeries, to removal of problem skin lesions (surgical excision, freezing, cautery), medication management, and cosmetic surgeries we offer. Dr Thaker is a former National Institute of Health Fellow, where he gained acclaim and awards as an NIH Fellow. He primarily researched the immune properties of the skin, while teaching the immune system to university graduate students. Contact us here for an appointment.