What is EM Contour?
EM Contour is a body sculpting treatment that uses electromagnetic energy to stimulate muscle contractions in a target area, resulting in toning and strengthening of the muscles, and fat reduction. Body contouring by electromagnetic energy is a non surgical treatment, with no down time for most patients.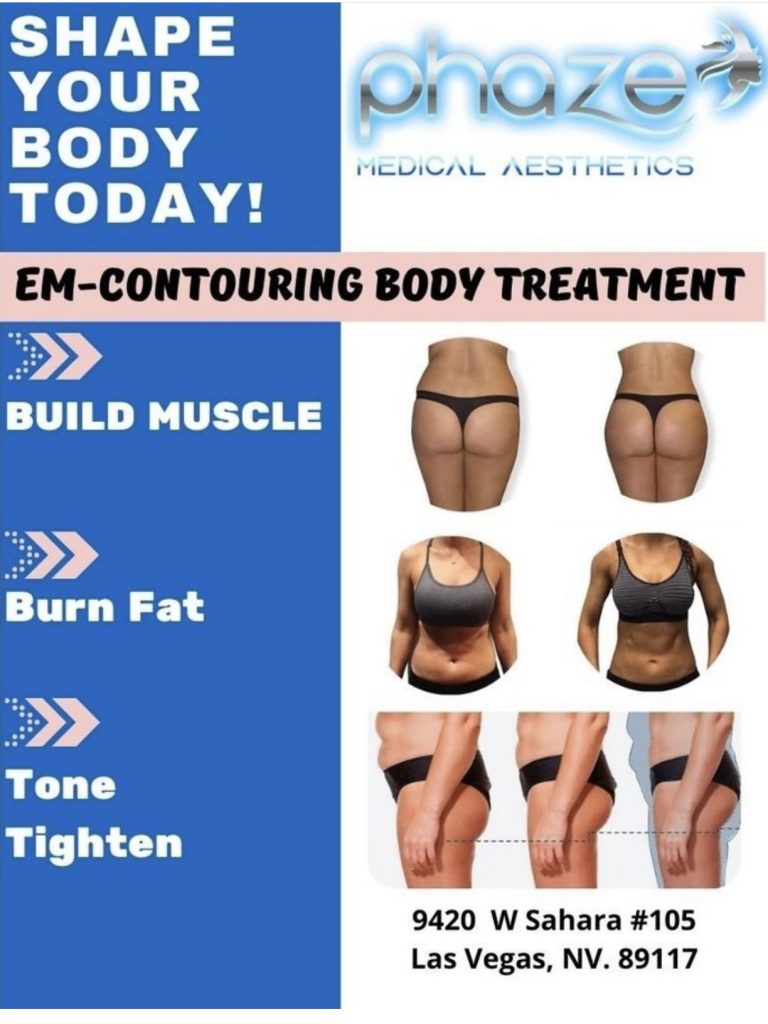 What areas can EM Contour treat?
EM Contour targets areas such as the abdomen, buttocks, and thighs, where stubborn fat and sagging skin can be difficult to eliminate through diet and exercise alone. The procedure is non-invasive and typically painless, with little to no downtime required. Contact us here for an appointment.
What is EMS?
'EMS' or 'electromagentic stimulation' is focused on problem areas to stimulate the muscles in the targeted area, causing them to contract and relax rapidly. EMS can also mean ' electrical muscle stimulation' and is the same treatment. Body contouring with EMS is a non-invasive body shaping procedure that uses electrical currents to stimulate muscle contractions, through paddles attached to the skin. The electromagnetic waves penetrate deep into the muscles, to build and tone muscle while also breaking down fat. EM Contour leads to an improvement in overall body shape and contour.
Who is a good candidate for treatment?
It is important to note that EM Body Contouring is not a weight loss procedure nor substitute for healthy diet and exercise. It is best used with a healthy lifestyle by healthy patients who want to achieve a defined and toned appearance. As with any cosmetic procedure, we offer consultation to determine if EM Contour is right for you.
Is EM Contour better than lasers or Coolsculpting?
EM body contouring primarily builds muscle, but also burns fat by electromagnetic energy. Sculpsure is the world's first laser FDA cleared to burn fat. Coolsculpting freezes fat. Thus EM Contouring is best for body sculpting focused on building muscle such as the abs or butt. Sculpsure is best for burning fat in problem areas like abs, love handles, banana rolls below the butt. Many of our patients get both treatments depending on their goals. See more on Sculpsure here.
How long do results last with EM Contour?
Results with EM Body Contouring start in just a few days and can last several months, when combined with healthy lifestyle and exercise. Most patients tolerate weekly sessions with minimal down time, like a strenuous work out. Most patients elect to treat body areas again in 6 to 12 months to keep or improve their results. Contact us here for an appointment.