SCULPSURE LASER LIPOLYSIS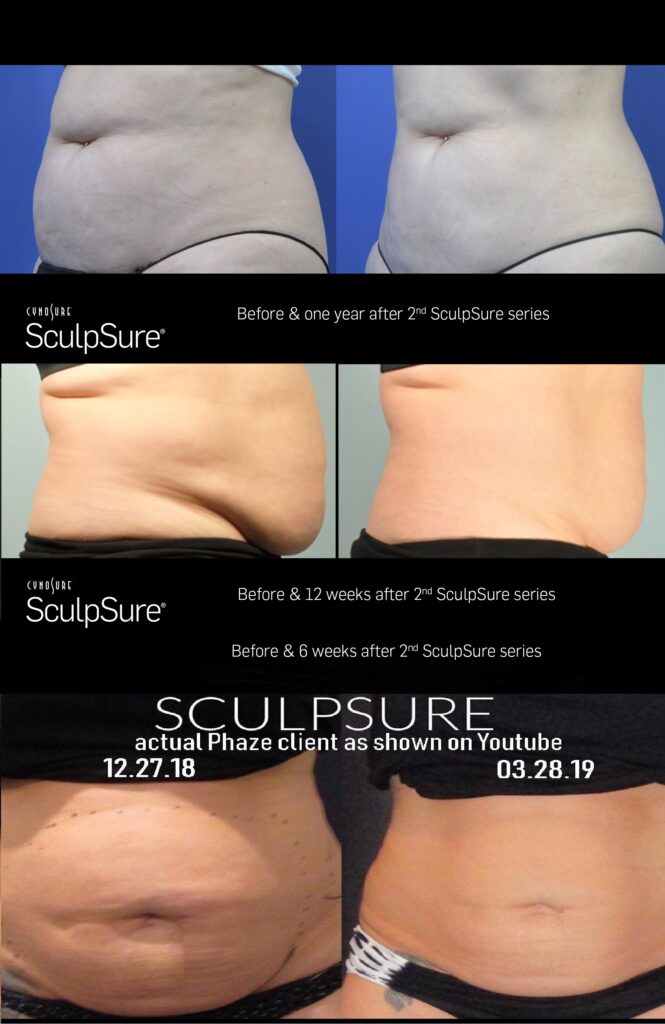 What is Sculpsure?

Sculpsure is the world's first FDA cleared laser to destroy fat for body contouring. Using 4 separate laser heads, treated areas may include the belly or abdomen, love handles, back, thighs, chin. While fat is destroyed, the surface of the skin is kept cool in a non surgical 30 minute procedure. This also called ''warm sculpting'' or a form of body sculpting that is non surgical.
What areas can you treat with Sculpsure?

We use Sculpsure Laser Lipolysis treatments for body contouring on the belly, love handles, back, thighs, and under chin. Schedule a free consult for Sculpsure here.
Is SculpSure right for me?
Treatments are ideal for healthy people with trouble spots, such as flanks, belly, thighs, back, resistant to diet and exercise. See our profile with Cynosure, makers of SculpSure here.
How many treatments will I need?
Sculpsure delivers best results when patients receive a series of body contouring treatments. We tailor a treatment plan that is right for you.
What should I expect during Sculpsure treatment?
Most patients report deep warmth and tingling sensations intermittently during Sculpsure laser treatment, which is generally well-tolerated. Some patients even fall asleep in our relaxing treatment room because they are that comfortable.
When will I see Sculpsure results?
Sculpsure delivers results in only a few weeks as the body begins to eliminate the destroyed fat cells. We see optimal results usually at a few months. While every client is different, studies demonstrate 24% of fat cells can be destroyed in the treated area.
How long will body contouring results last?
SculpSure permanently destroys the treated fat cell. As long as significant weight gain is not experienced, you will likely maintain SculpSure results. SculpSure is an excellent complement to a healthy lifestyle. You achieve best results combined with diet and exercise.
How long until I resume normal activities?
Most patients resume daily activities right away after treatment. There is generally no downtime. Sculpsure Laser Lipolysis allows you to resume your daily activities right away. Make it back to work for that post-lunch meeting, never miss yoga, hit the slopes or head to the beach. Nothing's stopping you!
What are Sculpsure alternatives?
We offer liposuction for surgical candidates, Cool sculpting, ultrasound cavitation and radiofrequency body sculpting, as well as M.D. supervised weight loss.
What is the difference between fat loss and weight loss?
The number of fat cells in our bodies remains constant throughout life. As we lose weight, fat cells shrink, but do not decrease in number. Thus, many people cant lose weight in trouble spots that retain fat. However, SculpSure actually destroys the fat cells to improve these trouble spots. Learn more about our program for overall weight loss here.