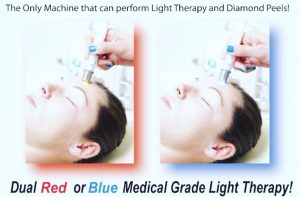 Microdermabrasion is a non-invasive, no downtime procedure that uses mechanical exfoliation to remove dead skin cells from the face, neck, chest and back. This allows new, healthier skin cells to surface and leaves the skin with a fresher, glowing look. After just one treatment the skin is noticeably smoother.
Microdermabrasion is performed first and then the chemical peel best for your skin is applied to the skin.
Diamond microdermabrasion is the most popular cosmetic skin care treatment. Diamon microdermabrasion will reduce the appearance of wrinkles, remove acne scars, clear up blackheads, minimize the size of the pores, reduce sun damage, and even out the skin tone. Microdermabrasion also helps to boost collagen production.